VHS IS PROUD TO OFFER UNIQUE GIFTS
COLORFUL MERCHANDISE THAT BRINGS BACK WONDERFUL MEMORIES
How about a Venice Historical Society Gift Membership?
Download an application from the Membership Page or contact the Society.
---
One-of-a-Kind Tapestry Throw. What a Great Personal or Gift Idea!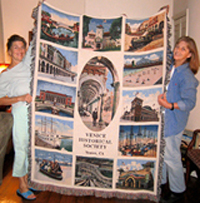 This magnificant tapestry throw shows 15 Venice landmarks in amazing detail. The cotton throw measures 51" x 68"
and comes with a description of each historic picture. Made in USA. 100% cotton.
Contact the Venice Historical Society to order one today at 310-967-5170.
---
Exclusive VENICE UNIQUE GREETING CARDS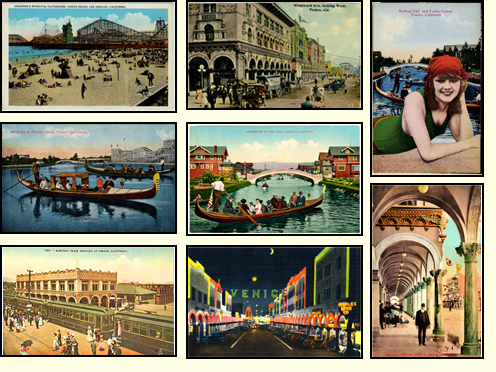 These Exclusive and Unique Greeting Cards are reproductions of actual postcards from the early 1900's. Our colorful collection offers several designs with the dates of the postcards on back. We offer over thirty different scenes.

Available at the following:

SMALL WORLD BOOKS at 1407 Ocean Front Walk next door to the Sidewalk Cafe in Venice
VENICE HISTORICAL SOCIETY at 310-967-5170 for quantity discounts
---
Venice Historic Photographs – Gallery available to browse with an appointment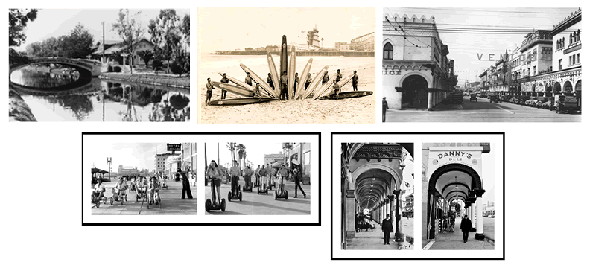 Prints of photographs available matted and/or framed. If you purchase one of our photographs, Universal Gallery on LIncoln Blvd. in Venice, will offer 40% off for the frame of your choice.

PHOTOS – All sizes available. Please check with us and make an appointment to peruse through our photo collection.
Email us at info@veniceofamerica.org for ALL ORDERS. Shipping and handling extra.

---
Books
The Lure of a Land by the Sea
By Delores Hanney

"Venice, California sits here, at the far left side of the continent, the spot just before one falls off the edge." With these words Delores Hanney launches into her brief, breezy histories about this town, famed chiefly for its high oddball factor that renders it a popular Southern California attraction second only to Disneyland at drawing visitors in vast swarms.

Delores tells terrific, diverse stories about Abbot Kinney, tiger-tamer Mabel Stark, evangelist Aimee Semple McPherson, writer Ray Bradbury, race car guy Carroll Shelby and Irwin M. Fletcher (better known as Fletch). Read these stories and many more in this wonderful collection.

Soft-Bound, $10.00

Available at the following:
-Small World Books, Ocean Front Walk, Venice
-Amazon.com
-Regular VHS events


Location Filming in Los Angeles


By Karie Bible, Marc Wanamaker, and Harry Medved
Presented by Venice Historical Society

In the early 20th century, the Los Angeles Chamber of Commerce enticed filmmakers to our city with sunshine. The film companies found Los Angeles to be an ideal place to make movies because of their ideal climate and diverse geography. Film history was being made.

This wonderful picture book tells the history of the movie studios in Los Angeles and Venice with rare, classic photographs. It is a must for any movie buff.

Soft-Bound, $19.99

Available at the following:
-Regular VHS events

Arthur L. Reese, "The Wizard of Venice


By Sonya Reese Davis, Family Historian
Presented by Venice Historical Society

The "Wizard of Venice" celebrates the life of Sonya's grandfather, Arthur L. Reese, an inventor, decorator and businessman of Venice, California during the 1900s. The 'Wizard' decorated the town of Venice, designed gondolas for the Venice Canals and operated businesses in both Venice and Santa Monica. The book uncovers how her grandfather's passion to succeed in life, ked him to a friendly business relationship with Abbot Kinney and brought together the communities of Venice and Santa Monica through social clubs and events.

Soft-Bound, $19.99

Available at the following:
-Regular VHS events


Images of America, Venice California


By Carolyn Elayne Alexander
Presented by Venice Historical Society

Venice Historical Society proudly announces the second printing of our book authored by Venice's historian, VHS past-president and archivist Carolyn Elayne Alexander. 128 pages soft-bound with over 200 black and white photos chronicling our first 100 years.

From the back cover:
This pictorial retrospective illustrates Venice's history from its beginnings in 1880 through the Great Fire and Consolidation, to the advent of the rollerskaters and carnival-like ambience that characterize the Venice that we know today. Based on over 200 interviews of local and pioneer families, this volume contains many previously unpublished images from private albums and collections, all of which provide a unique glimpse into Venice's fascinating first century.

Soft-Bound, 128 pages, $19.99

Available at the following:
-Regular VHS events
-Small World Books in Venice
-Amazon.com

Hollywood Escapes
By Harry Medved with Bruce Akiyama
Presented by Venice Historical Society

Explore hundreds of famous movie sites throughout Southern California. These wide-open spaces have transported moviegoers to exotic worlds for nearly a century, Hollywood Escapes unveils these exciting settings within a day's drive of Los Angeles.

The first comprehensive guide to Southern California's outdoor filming locations takes you to sixty of the Golden State's most cinematic mountains, lakes, deserts and beaches. This book shows you the way to the movies' and recommends places to dine and lodge along the way.

Soft-Bound, 410 pages, $19.95

Available at the following:
-Regular VHS events
-Bookstores around the Los Angeles area

Images of America
Los Angeles County Lifeguards
By Arthur C. Verge
Presented by Venice Historical Society

Thousands of men, women and children owe their lives to the Los Angeles County Lifeguards. Made famous by the television show Baywatch, these lifeguards patrol 72 miles of coastline extending from Zuma Beach to the Los Angeles Harbor.

Author Arthur C. Verge, a full-time professor of history at El Camino College and a Los Angeles County lifeguard since 1974, has used official archival photos to trace the compelling history of the largest and busiest lifeguard service in the world. This photographic retrospective tells a fascinating historic account of this unique organization.

All proceeds from the sale of this book go to the Public Safety and Education Fund.

Soft-Bound, 128 pages, $19.99

Available at the following:
-Regular VHS events
-Borders Books in Santa Monica
-Barnes & Noble in Santa Monica
-Amazon.com

Venice, California
A Centennial Commemorative in Postcards
1905-2005
By Delores Hanney
Presented by Venice Historical Society

California was invented by dreamers. Like an old-fashioned postcard album with engaging historical narratives, this book explores the Venice landscape and its continuing evolution.

Soft-Bound, 70 pages, $19.99

Available at the following:
-Regular VHS events


plonk goes the weasel
By Joan Del Monte
Presented by Venice Historical Society

A film company rips off a small redwoods town. When the checks bounce, the town is told there is nothing it can do. But then the residents go on a dogged hunt for unthinkable and truly wicked revenge.

Excerpts from Chapter 10
Venice, California, was built by Abbot Kinney, a dreamer and heir to the Sweet Caporal cigarette fortune, who decided to reproduce the Italian City on the mud flats of Southern California. With time, the canals silted in and oil companies killed the area for residential use by festooning it with working oil rigs. Mornings you could smell the canals from the dead fish. The beats arrived in the 60's to live in the cheap rents. Something about being next to the water; something about the way the light glanced off the waves, made people see things different.

Herb Boland's apartment took up the ground floor of what had been a two story one family house on a Venice walk street. The original dining room had a wood burning fireplace faced with stream-rounded boulders. The fireplace was why Boland rented the apartment and it made up, in his mind, for the inconvenience of having to sleep in the glassed-in front porch.

Boland was fond of telling colleagues that he got in a bathing suit on Friday at 6 p.m. and stayed in bathing suits until Monday.

Soft-Bound

Available at the following:
-Regular VHS events
-Borders Books
-Barnes & Noble
-Amazon.com
---
T-Shirts

Venice Historical Society T-Shirts
MOST T-SHIRT DESIGNS COME IN S, M, L, XL, 2XL
AVAILABLE AT VHS EVENTS.
FOR MULTIPLE ORDERS, CALL US AT 310-967-5170